FAT BELLY – Set The Flag
25. Jan. 2012 | von
Sören Nolte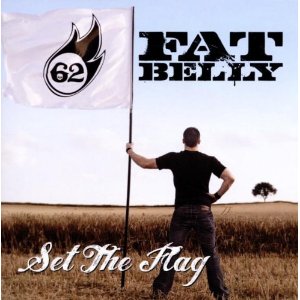 Band: FAT BELLY
Album:
"Set The Flag"
Genre:
Punkrock
Spielzeit:
38:59
Release Date:
24.02.2012
Label:
Intono Records
Web:
www.fatbelly.de
Bewertung:
8 / 10
01. Ready 2 Rock
02. Sober (Again)
03. Home Is Where The Heart Is
04. Same Old Story, Somehow New
05. Ireland's Call
06. One For The Road
07. Life Behind A Glass
08. Forever And A Day
09. Hopeless Kids Elite
10. Gotta Go
11. Take Me Away
12. Britpopmuckemussaufhör'n
13. Until This Place Is Burning
14. Los Strangeles (Hey Hey)
Eine Platte wie ein Ausflug in die Neunziger Jahre!
Eine Platte wie ein Ausflug in die Neunziger Jahre! Mit ihrem zweiten Output "Set The Flag" wildern FAT BELLY mal wieder schwer in den Gefilden, die die poppig angehauchten Punkbands des ausgehenden zwanzigsten Jahrhunderts ziemlich leer hinterlassen haben. Spektakulär mag das nicht sein. Aber der hannoversche Fünfer macht das einerseits tatsächlich gut. Und andererseits wirkt ihr Neunziger-Sound zwischen all den testosterongetränkten und schwer tätowierten Retro-(Rotz-)Rock-Gruppen nun selbst "retro" – und dabei gleichzeitig erfrischend!
Wobei: Dass sie durchaus ebenfalls rotzen können, zeigt der Eröffnungssong "Ready 2 Rock" (immer diese Zahlenspiele! – Anm. v. Metal4Hannover!). Danach kommen aber die erwarteten Pop-Punkperlen. Und die haben es in sich: "Home Is Where The Heart Is" ist eine hymnenhafte Highspeed-Liebeserklärung an "the City I call home" (ihr wisst schon!), während "Ireland's Call" eine fernweh-flirtende Freundin auf die grüne Insel verabschiedet und dabei eine leichte Folk-Schlagseite entwickelt – allerdings entgegen dem momentanen Trend ohne Akkordeon und Flöten auskommt. "Britpopmuckemussaufhör'n" ist ein 21 Sekunden langer Ausbruch. Dazu gesellt sich das Album-Highlight "Same Old Story, Somehow New", ein Punkrock-Duett, bei dem Shouter Benny von Nina Grötschel – ehemalige Sängerin der Band MUFF – unterstützt wird.
Nach hinten hin dünnt die Scheibe leider ein wenig aus. Aus irgendwelchen Gründen wirken die dort platzierten Songs ein wenig beliebiger als jene am Start. Lediglich "Until This Place Is Burning" nimmt noch einmal ordentlich Fahrt auf. Vielleicht fehlt auch einfach solch ein kleines Meisterwerk wie "I Guess…" vom Debüt-Album (ist eigentlich irgendeinem die Genialität dieses Songs aufgefallen?!). Trotzdem ein super Album.