SCORPIONS – Sting In The Tail
13. Okt. 2011 | von
Sören Nolte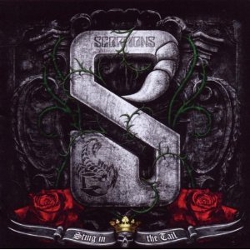 Band: SCORPIONS
Album:
"Sting In The Tail"
Genre:
Hardrock
Spielzeit:
45:34
Release Date:
19.03.2012
Label:
Sony
Web:
www.the-scorpions.com
Bewertung:
9 / 10
1. Raised On Rock
2. Sting In The Tail
3. Slave Me
4. The Good Die Young
5. No Limit
6. Rock Zone
7. Lorelei
8. Turn You On
9. Let's Rock
10. SLY
11. Spirit Of Rock
12. The Best Is Yet To Come
Das cool aus dem Handgelenk geschüttelte Riffing und die unverkennbare Stimme von Klaus Meine.
Seien wir ehrlich: Eine solche Scheibe hätten wir von den SCORPIONS nicht mehr erwartet. Zu sehr ist uns die Gruppe in der Vergangenheit durch schnulzige Balladen und überlasteten Orchester-Kitsch in Erinnerung geblieben. Wer zu Zeiten ihrer größten Erfolge geboren wurde, ist jetzt gerade Anfang 20 – und kann die Truppe eigentlich nur als weichgespülte Karikatur einer Rockband kennen. Tatsächliche Hardrock-Highlights wie "Loving You Sunday Morning", "The Zoo" oder "Blackout" erscheinen in ihrer rohen Härte mittlerweile wie ein Relikt längst vergangener Zeiten.
Doch dann erklingen die ersten Takte der neuen Platte. Und die machen deutlich, dass sich die Band auf dem – wie angekündigt – letzten Tonträger wieder auf ihre Wurzeln besinnt. Beinahe programmatisch heißt der erste Track denn auch "Raised On Rock". Alles ist wieder da: Das cool aus dem Handgelenk geschüttelte Riffing von Rudolf Schenker und Matthias Jabs, sowie die unverkennbare, deutschakzentelnde und kultige Stimme von Klaus Meine. "Sting In The Tail" legt dann noch eine Energie-Schippe drauf, "Slave Me" kommt überraschend modern daher.
Dann kommt die erste Ballade. Auch das muss bei den SCORPIONS natürlich sein. Statt aber der eigenen Historie einen weiteren simplen Schmachtfetzen hinzuzufügen, gibt es diesmal mit "The Good Die Young" Kritik an der aktuellen (Welt-)Politik und den Kriegen im Irak und Afghanistan. Es folgen weitere Kracher (sehr geil: "Rock Zone") und auch noch die eine oder andere Schnulze (ein wenig zu schmalzig ist da lediglich "Lorelei" geraten), bevor – ausgerechnet! –  mit "The Best Is Yet To Come" und einem flüssigen Mitsing-Refrain das Ende von Platte und Band eingeläutet wird: "How can we grow old, when the soundtrack of our life is Rock'n'Roll?!"