NIKKI PUPPET – Militant Mother
13. Okt. 2011 | von
Martin R.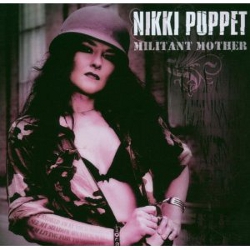 Band: NIKKI PUPPET
Album:
"Militant Mother"
Genre:
Rock
Spielzeit:
45:00
Release Date:
16.02.2007
Label:
Armageddon Music (Soulfood)
Web:
http://www.nikkipuppet.de
Bewertung:
6 / 10
1. Lost In Time
2. Militant Mother
3. We Didn´t Start The Fire
4. Open Up Your Mind
5. Words
6. Turning In Circles
7. If (You Can´t Have Me)
8. Lights Are Out
9. Paralized
10. Paltry
11. I Don´t Know
Ein grundsolides Album - nicht mehr aber auch nicht weniger.
Fresh und teilweise ganz schön rotzig, klingt die Stimme von Sängerin Nicky Gronewold auf dem zweiten Album der Band. Der Opener "Lost In Time" gibt bereits den Ton an, indem das gesamte Album gehalten ist. Sehr rockig, an manchen Stellen ist sogar etwas Punk mit von der Partie. Der Titeltrack "Militant Mother" ist dabei leider einer der schwächeren Songs und ist bereits beim nächsten Track vergessen. Überraschungen erfährt man bei diesem Album kaum. Eine der wenigen Ausnahmen ist der Song "Paltry" der vom Arrangement und Sound schon fast nach einem Heavy-Rock-Dance-Remix klingt. Die restlichen Songs richten sich klanglich an den Opener, was das Album sehr homogen und geschlossen daher kommen, jedoch auch etwas eintönig wirken lässt. Ein kleines Highlight bildet das Billy Joel-Cover "We Didn´t Start The Fire", das partytauglich und mit einem over the top-produzierten Refrain aus den Boxen schallt. Alles in allem ist "Militant Mother" ein grundsolides Album – nicht mehr aber auch nicht weniger.