GRAILKNIGHTS | Heavy Metal | Hannover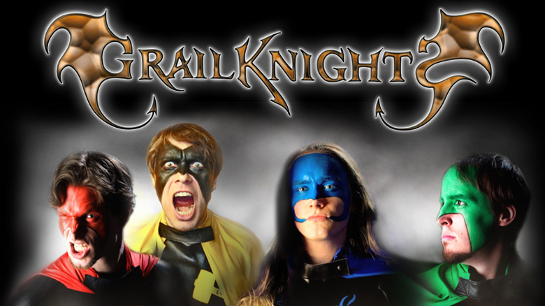 Es gibt noch keine Bilder von GRAILKNIGHTS.
Laut eigener Auskunft stammen die die GRAILKNIGHTS aus Grailham-City (aka Hannover) und spielen Melodic Death Metal. Dem wachen Hörer fallen aber durchaus auch Ausflüge in Power-Metal-Gefilde auf; der derbe Grunzgesang wird aber natürlich beibehalten. Schließlich sind die Grailknights nicht nur eine Band, sondern auch eine Superhelden-Truppe auf dem Weg zur Allmacht. Ihre Mission lautet: "Erobert den Heiligen Gral und hütet ihn, als wäre er das letzte Bier, welches ihr auf Erden trinken dürft". Hauptkonkurrent ist der fiese Dr. Skull, "dunkler Herrscher von Slug Mountain und Modelleisenbahner". Da ist es nur logisch, dass die wilde Horde keine Konzerte spielt, sondern "Schlachten" schlägt. Und dass die Mitglieder des "Ritterordens" nicht Uwe oder Klaus heißen, sondern Sir Optimus Prime oder Baron van der Blast. Eigens auf den Leib geschneiderte Kostüme sind obligatorisch; zur Triebabfuhr steht die wunderschöne Stute Zapf Beauty zur Verfügung; der Mohrrüben-Mann putzt das Schloss. Hail to the Grail!
Diskografie:
2004 "Across The Galaxy"
2006 "Return To Castle Grailskull"
2008 "Alliance"
Sir Optimus Prime (v/g)
Mac Death (bis 2011, v/b)
Sovereign Storm (g/v)
Baron van der Blast (d)